Lightning can vaporise the sap in a tree, causing it to explode yet can be easily tamed using a modern lightning protection system. Lightning strikes cause extreme heat as well as a magnetic force which can cause fires, damage buildings and wipe out electrical equipment.
"Lightening doesn't strike twice" – not only is this statement incorrect, it's a dangerous belief when it comes to roof safety; the Empire State Building is struck by lightening approximately 100 times every year! It is therefore imperative that tall buildings have a lightening system in place to protect your people, assets and property structure.
We can design, supply, install and test your lightening protection system.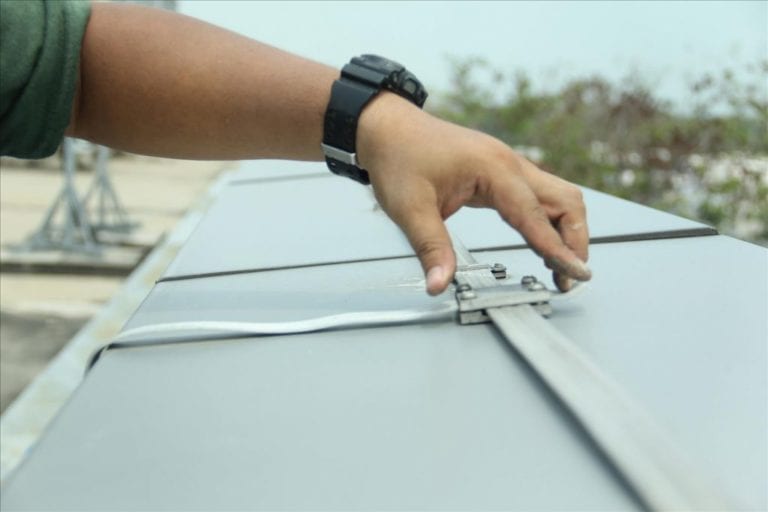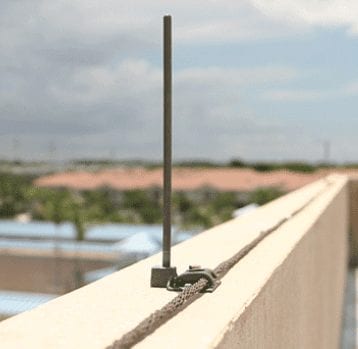 What is lightning protection & why do I need it?
Lightning is extremely unpredictable and can strike at any point during the year; it doesn't always strike the tallest object in its path either; lightening can easily strike very close to the base which is a huge concern if you do not have a lightening protection system in place, as it would not only damage that object, but also anything nearby.
It is estimated that lightening will strike 350,000 times in the UK every year, with at least a quarter of those causing severe damage.
Don't risk your property, people or assets – protect your roof from lightening with an approved lightening protection system.
All of the height safety solutions we offer comply with the relevant British & European Standards and can be installed on most roof types to provide the full access and maintenance you require.
Lightning & surge risk assessment & classifications
The BS EN 62305 highlights four key risks in relation to lightning strikes and protection;
R1 – Risk of Loss of Human Life
R2 – Risk of Loss of Services to the Public
R3 – Risk of Loss of Cultural Heritage
R4 – Risk of Loss of Economic Value
All of the above risks are given a level of damage ranging from injury to human life, physical damage to structures and objects, and failure within internal systems; all of which have a major impact throughout society and businesses.
According to the BS EN 62305, it is recommended to have a single integrated earth termination system which combines lightning protection, power and telecommunication systems. There are three earth electrode arrangements which are used;
Type A: This type is focused directly on horizontal or vertical electrodes which are determined on a number of variations including the system in place, and the area of earth they are being placed. Type A is generally used for systems installed to the BS 6651.w
Type B: This type consists of an earth electrode ring which is embedded around the boundary of a structure and the majority of the ring is in direct contact with the earth. Foundation earth electrodes: This type is very similar to a 'Type B' classification with the main conductors being built into the concrete foundation of the structure.