As Fall protection experts, we understand the current health and safety legislation requirements for safely working at height.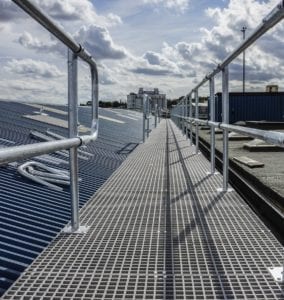 Experts in safety at height and fall protection
We're dedicated to making working at height safer by tailoring fall protection solutions to our clients' needs.
All of the height safety solutions we offer comply with the relevant British & European Standards and can be installed on most roof types to provide the full access and maintenance you require.
We are experts in the height safety market.
With over 10 years' experience of working at height safety, our fall protection specialists are here to help with any technical questions you might have relating to fall arrest and fall restraint systems and offer a wide range of solutions including (but not limited to):
Fall Restraint
Fall Arrest
Mobile Man Anchors
Testing & Recertification
Vertical Safety Lines
Overhead Fall Protection Systems
Qualified and experienced, our team includes safety system designers and installation experts. Working together, our highly trained team survey sites, design safety systems, and install, maintain and recertify fall protection solutions. Knowledgable and efficient, our staff ensure every client gets great results at a great price.